30 May

The Triana bridge of Seville

The Triana bridge of Seville is the entrance to the historic suburb most famous of all the suburb.  Refuge for gypsies and Mudejars. Triana is a quarter dedicated to the ironwork, the marine and the ceramic. Where the tradition is palpable in every corner.  A different quarter with different people, because Seville is different than Triana.

The neighbourhood residents think this quarter is too special for being considered like any other quarter. This feeling of independence is the reflection of the geographic location during its history. And why? Because Triana had been isolated from the other side of Seville for a long time.

That lack of connection between Seville and Triana lasted until 1171. In that year the almohad leader Abu Yacub Yusuf ordered the construction of the barques bridge.

It was a floating bridge formed by a system of anchored barges that facilitate communication between the two sides of the river.  This structure enabled the crossing of neighbours and merchandises. It´s said that the bridge was built in 36 days. And it will communicate Seville with Triana during more than 600 years, having been restored in some cases because of the floods.

The construction of the iron bridge of Isabella II, in 1852, was the end of the barques bridge. It was removed to make room for the new bridge, known as the Triana Bridge. The new bridge was inspired in the Parisian bridge Carrousel de París;  projected by the French architects Berdarder  and  Steinacher.  The Triana Bridge was the first fixed bridge of the city and one of the oldest iron bridges of Spain.
Do you want to know its secrets?
This Bridge hide small curious places, legends which are the reflection of the Triana charism. Do you want to discover everything is hidden in this quarter? You can join us to our Triana neighborhood free tour. You will discover with APIE the both sides of the river, connected by a very special bridge.
Guadalupe Jurado
Guía de apie | Experiencias Guiadas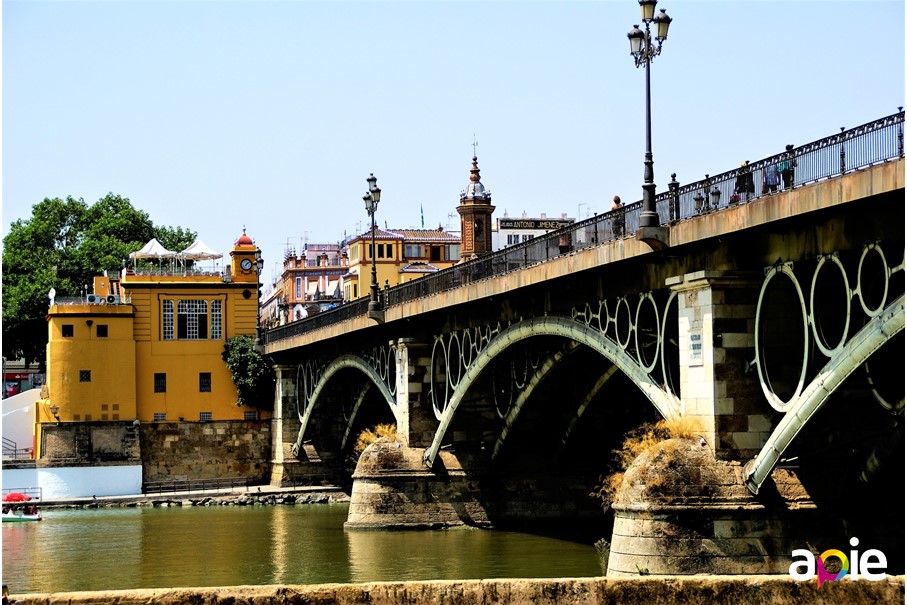 We inform you that the personal information you provide on this form will be filed under our responsibility for the treatment of personal data in order to inform you of products and services offered by APIE EXPERIENCIAS TURÍSTICAS GUIADAS SLU. As a directly interested party, you have the right to access this information, rectify, cancel and oppose the processing of related information and authorize what becomes part of the file, before which you can exercise your rights and receive information and advertising of our products and services.
The aforementioned rights can be exercised before APIE EXPERIENCIAS TURÍSTICAS GUIADAS SLU in the email info@experienciasapie.com (ORGANIC LAW 15/1999 of 13 December on the Protection of Personal Data).